Duke Active LTD is the General Agent of Qingdao LET Flexitank Co., Ltd in Ukraine and offers a full range of services related to flexitanks.
Key benefits for your business:
The permanent availability of flexitanks with the volume of 18,000 liters. – 24,000 liters – 26,000 liters
The possibility of flexitanks release in Odessa at a convenient time
Documentary and informational support
Handling of customs formalities forflexitanks in Ukraine
Services for Flexitank's installation
Competitive price
Possibility to order special products from the Qingdao LET Flexitank Co., Ltd assortment for transportation of any complexity
A full range of logistics services – auto / railway transportation, forwarding, sea freight.
Flexitank is a special disposable high-tech equipment.
It is a multilayer liner that is installed for further transportation in a standard sea container with a volume of 16,000 to 26,000 liters, with valve equipment for draining and filling the product.
It is used for transportation and storage of liquid food and non-hazardous bulk cargo, such as:
oils (vegetable, industrial)
drinks and food (wine, syrup, juices)
chemicals for non-hazardous liquids (water based paints)
industrial goods (glycerin, fat)
3. The main advantages of transportation in Flexitanks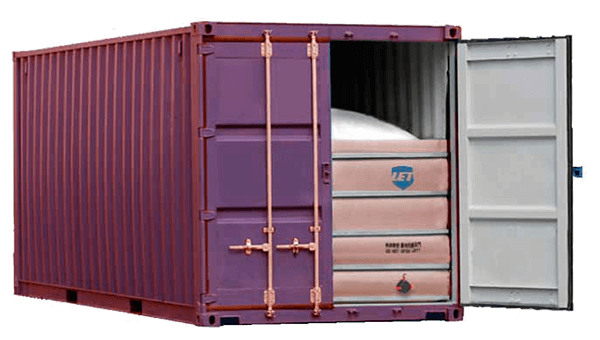 Flexitank is widely used in the transportation of bulk cargoes and is a more economical alternative to tank containers, due to the following advantages:
The liner is quite lightweightand has a small size
High loading rate
Single-time use with further quick utilization
Environmentally friendly
Low installation costs
Liner's tightness protects the cargo from the penetration of substances from the outside, which helps to maintain the quality of the product. Also, prevents container equipment from pollution by transported cargo
High loading and unloading speed
Flexitanks, produced by Qingdao LET Flexitank Co., Ltd is a reliable product, which is in demand for 11 years.

The high quality of flexitanks by the Qingdao LET Flexitank Co., Ltd manufacturer is proved by a zero percentage of insured events whileshipping from Ukraine within 2018-2019yy.

TM Qingdao LET Flexitank Co., Ltd. is a member of the international container organization (COA), also has the following certificates:
ISO
НАССР
FDA
EUFoodGradeCertificate
Sanitary and epidemiological conclusion of the Ministry of Health of Ukraine, confirming that flexitanksof Qingdao LET Flexitank Co., Ltd. producer can be used for transportation of food products.

Our managers will be glad to help you!